Ken

| Freeform radio for the chronically impatient. Avant-garde pop, poppy avant-garde, teutonic thump thump, loud guitars and guttural screaming. Playlists and photos posted in real time on the web so you can play along or comment at home or work.
.
Wednesdays 9am - Noon (

EDT

) | On WFMU (Info) | 91.1, 90.1, 91.9 FM & wfmu.org
---
---
Playlist for 29 February 2012

|
Marathon Week 2 with Monica: Pledge to Encase Ken in Melted LPs!
Hear the show in: | Add or read comments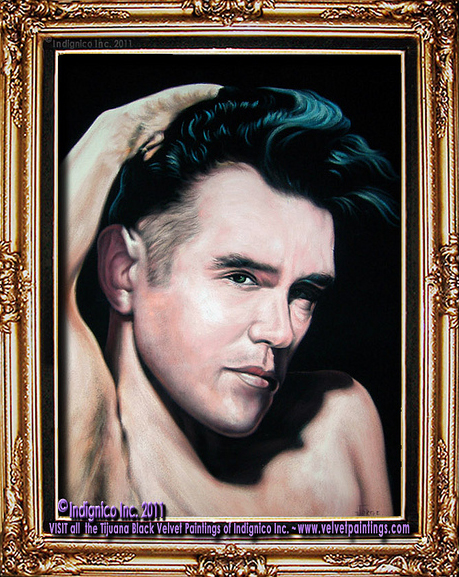 The Grand Prize for Today's show, a naked yet fuzzy Morrisey Velvet Painting by the imitiable Jorge!
Make a pledge of $30 a month (or $365) or more to be entered to win it! Drawing at Noon O'Clock, Leap Day.
| Artist | Song | Comments | Approx. start time |
| --- | --- | --- | --- |
| tATu | How Soon is Now | | 0:00:00 () |
| Prison Shake | Eisbair | | 0:21:34 () |
| Wire | The Agfers of Kodack | | 0:24:44 () |
| The Cherry Pops | Dein Haarschnitt und Deine Gitarre | | 0:37:45 () |
| Rocket/Freudental | Mick Jagger | | 0:40:37 () |
| Your DJ Speaks with Monica over Curd Duca-Sin Swing | | | 0:44:15 () |
| Funkadelic | Free Your Mind and Your Ass Will Follow | | 0:55:12 () |
| Kim Fowley | Inner Space Discovery | | 1:03:12 () |
| Electralane | To The East | | 1:07:30 () |
| Your DJ Pitches With Monica over Jonathan Kane | | | 1:12:16 () |
| Matias Aguayo | Desde Rusia | | 1:26:02 () |
| Yukon Orange | Ernie Bachmann | | 1:34:30 () |
| Your DJ Pitches With Monica | | | 1:36:00 () |
| J.C. Satan | Hell Death Samba | | 1:42:30 () |
| Basement Jaxx | Good Luck | | 1:45:41 () |
| Brigitte Fontaine | Genre Humain | | 1:50:59 () |
| Your DJ Pitches With Monica | | | 1:56:18 () |
| Olivia Tremor Control | The Opera House | | 2:02:06 () |
| Gimmicks | Cigarette | | 2:05:25 () |
| Your DJ Pitches With Monica | | | 2:07:50 () |
| Velvet Underground | Guess I'm Falling In Love (Instrumental) | | 2:18:08 () |
| Your DJ Speaks over Jonathan Kane | | | 2:21:48 () |
| Supercar | Lucky | | 2:29:03 () |
| Jaqee | Pink Drunken Elephant | | 2:35:21 () |
| Your DJ Pitches With Monica | | | 2:39:27 () |
<-- previous playlist
|
ken's other playlists
|
next playlist -->
RSS feeds for Ken's show:

Playlists feed |

MP3 archives feed
E-mail Ken
|
All artists played by ken
|
WFMU home page
|
WFMU playlists
|
hear WFMU live on the Web
|
top of page
Generated by
KenzoDB
, (C) 2000-2019
Ken Garson