The Evan "Funk" Davies Show: Playlist from January 9, 2013
Every show starts with the '70s! We'll rediscover forgotten rockers, revisit unfairly maligned disco beats and replay power-pop favorites. Next: plenty of new releases, occasional live bands and more. Don't let the nickname confuse you.
<-- Previous playlist | Back to The Evan "Funk" Davies Show playlists | Next playlist -->
---

January 9, 2013: annual-ish show dedicated to my high school friend Jimmy Mack

Listen to this show:

Pop‑up player! | Add or read comments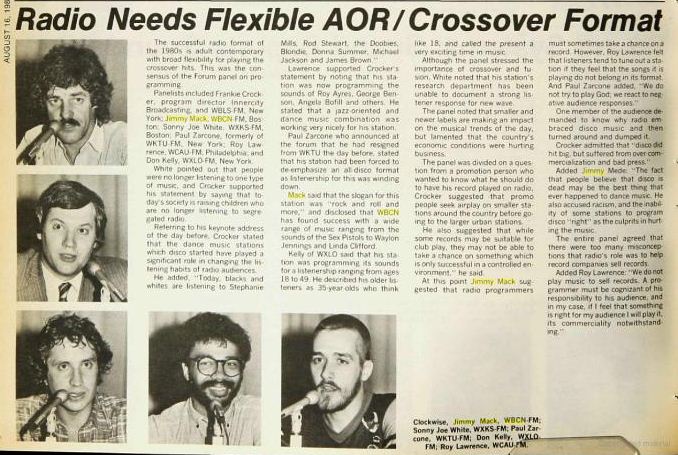 Back in October 2006 I dedicated my first show on the regular WFMU weekly schedule to Jim McIntyre, a/k/a Jimmy Mack (pictured, lower right, in Billboard in August 1980) who was one of my best friends in high school. I've talked to a lot of people over the years who credit a cool uncle, older sister, or other family member for steering them in the right musical direction. That's what Jimmy was for me. We met in high school and became friends through a shared love of music while working together on the school newspaper, but somehow in the pre-Internet mid-'70s Jimmy was able to sniff out cool music that wasn't yet -- or, sometimes, ever -- part of the mainstream.

Jimmy started working at WBCN, the leading rock radio station in Boston, while we were still in high school. He began as a volunteer but soon had paying jobs as Assistant Music Director and Music Coordinator. His excitement, enthusiasm and passion for discovering and sharing new music was matched by his generosity - nearly every time I saw him he'd present me with a bag of extra (or rejected) promo records. Several of the bands he introduced me to are still my favorites to this day: Cheap Trick. The Dictators. The Ramones. The Stranglers. Ultravox. Foreigner. Television. (I said SEVERAL, not ALL.) Imagine being in your teens and having a friend turn you on to just ONE of these bands. Now increase that impact tenfold or more, and you start to get an idea of the importance of Jimmy's friendship.

In the summer of 1985, Jimmy learned he had AIDS. A year later he passed away, at the age of 25. Generous until the end, he spent his last year and half or so volunteering on the Boston AIDS Action Committee's hotline and working with the AIDS Action Council and the National Association of People with AIDS, where he was elected to the board shortly before he was hospitalized in 1986. Regrettably I had lost contact with Jimmy by this time, and didn't hear of his passing until later that year.

When I got on the regular schedule at WFMU I wanted to acknowledge Jimmy's impact on my life, and especially on my musical tastes. In recent years I've dedicated the first show of the WFMU fall schedule to Jimmy, since his influence is never too far from what you hear me play on my show. There was no schedule change this past fall because of issues related to Sandy, so I'm using this first new-music-based show of the year as an opportunity to once again remember Jimmy and to thank him for his role in shaping my musical taste.


Please take a moment to follow me on Twitter and/or Like The Evan "Funk" Davies Show on Facebook! Thanks!
(* = new)


Artist
Track
Album
Label
Year
Comments
New
Approx. start time
bandit
one way love
7"
ariola
1978
produced by Matthew Fisher of Procol Harum
0:00:00 (Pop‑up)
elvis costello
tiny steps
7"
radar/wea
0:03:10 (Pop‑up)
the limiñanas
mobylette
7"
trouble in mind
*
0:05:42 (Pop‑up)
allah-las
tell me (what's on your mind)
s/t
innovative leisure
*
0:09:33 (Pop‑up)
cajmere
percolater (remastered original mix)
va-only 4 u: the sound of cajmere & cajual records 1992-2012
new 2CD collection
*
0:12:56 (Pop‑up)
art brut
dc comics and a chocolate milkshake
art brut vs. satan
downtown
2009
0:17:40 (Pop‑up)
dexy's midnight runners
there, there my dear
searching for the young soul rebels
emi america
1980
0:21:25 (Pop‑up)
twerps
work it out
knock knock knock 7" ep
chapter
*
0:37:53 (Pop‑up)
uv race
wire strainer
split 7" with native cats
ride the snake
*
0:41:03 (Pop‑up)
the ampersands
catalyst soup
this is your adventure too
ampersands
http://www.thisisyouradventuretoo.com/
*
0:42:14 (Pop‑up)
mazes
my drugs
mazes blazes
sanzimat
*
0:45:38 (Pop‑up)
woollen kits
all sorts
four girls
trouble in mind
*
0:49:27 (Pop‑up)
andy human
the one
freeze
cwr
*
0:58:48 (Pop‑up)
gap dream
a little past midnight
ali baba 7"
suicide squeeze
*
1:01:44 (Pop‑up)
tim maia
bom senso
world psychedelic classics 4: nobody can live forever
luaka bop
orig early '70s, new CD collection
*
1:06:18 (Pop‑up)
tommy hunt
loving on the losing side
7"
spark uk
1976
1:11:21 (Pop‑up)
mucca pazza
monster tango
safety fifth
electric cowbell
Mucca Pazza heading east! Tomorrow in Philadelphia at Underground Arts; January 11th in Washington, DC at the Black Cat; Saturday the 12th at Littlefield in Brooklyn; and Sunday at Webster Hall for globalFEST 2013!
*
1:14:32 (Pop‑up)
the ribeye brothers
cowards way
call of the scrapheap
mainman
*
1:24:30 (Pop‑up)
the godfathers
when am i coming down
birth school work death
epic
1988
1:27:52 (Pop‑up)
sweet chariot
wildside
va-man chest hair
b-music
orig early/mid 70s
*
1:32:35 (Pop‑up)
fletcher & johnson
small town
salutations
burger
1:36:12 (Pop‑up)
hammered satin
quasar queen
digital single
no label
2012
It's here --> http://soundcloud.com/hammered-satin
1:40:04 (Pop‑up)
games
different times
s/t
hozac
playing live on the show on Weds Jan 30!
*
1:48:57 (Pop‑up)
lamps
h.b.d.
under the water under the ground
in the red
*
1:51:41 (Pop‑up)
glitter wizard
big sur
hunting gatherers
captcha
*
1:56:31 (Pop‑up)
jon spencer blues explosion
ice cream killer
meat and bone
mom + pop
don't miss them at the WFMU benefit this Sunday at the Bell House!
*
2:04:45 (Pop‑up)
major stars
no attraction
decibels of gratitude
important
*
2:16:59 (Pop‑up)
pussy
lady ella
invasion
vintage/rockadrome
2012
orig early '70s, cd reissue
2:23:00 (Pop‑up)
testors
hey you
complete recordings 1976-79
swami
2003
2:26:09 (Pop‑up)
warm soda
in another world
7"
southpaw
*
2:29:10 (Pop‑up)
dave hamilton
party time
va-the detroit funk vaults
bgp
2012
2:32:25 (Pop‑up)
black joe lewis with the soul distributors
boogaloo on clark street
7"
papa bill
*
2:37:09 (Pop‑up)
the jam
the bitterest pill
the gift (deluxe edition)
polydor/universal
new 2CD reissue
*
2:40:24 (Pop‑up)
the cry
modern cinderella
va-pdx pop now! 2012
pdx
*
2:43:43 (Pop‑up)
t. valentine with daddy long legs
bald-headed benny
the vampire
norton
*
2:52:35 (Pop‑up)
swingin' neckbreakers
hail to the baron
return to rock
telstar
2000
Neckbreakers, Daddy Long Legs, Reigning Sound and Piggies this Friday at the Bell House to benefit Norton Records! Postponed until March due to illness!
2:55:32 (Pop‑up)
<-- Previous playlist
| Back to
The Evan "Funk" Davies Show playlists
|
Next playlist -->
RSS feeds for The Evan "Funk" Davies Show:

Playlists feed |

MP3 archives feed
|
E-mail Evan Davies
|
Other WFMU Playlists
|
All artists played by The Evan "Funk" Davies Show
|
---
Listen on the Internet
|
Contact Us
|
Music & Programs
|
WFMU Home Page
|
Support Us
|
FAQ
Live Audio Streams for WFMU:
Pop-up
|
128k AAC
|
128k MP3
|
32k MP3
---